Last month I signed up as a tester for Google Shopping Express – a local delivery service aims to let users order online and receive same day delivery at a low cost (though as a tester I get free, unlimited delivery for 6 months). I finally placed my first order yesterday and thought I'd share my experience.
Ordering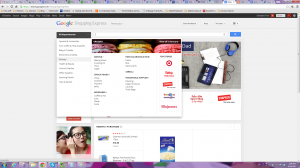 The interface is similar to most e-commerce website which lets you browse by category or simply search for the product you need. I was going to make some cookies the next day, so I decided to search for flour, sugar, white and semi sweet chocolate. Unless you specify a particular provider, Google will pull relevant results from all its local partners.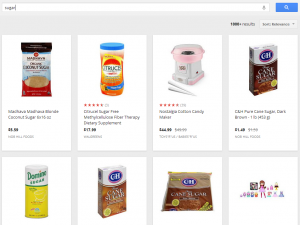 A search for sugar returned all things from granulated sugar, coconut sugar, to cotton candy maker & dolls (!?) . If multiple providers offer the same item, one is chosen as default but you could always switch. Overall It was a fairly unstructured list and it took me a while to narrow down the item, compare prices and decide on the brand. Several interesting observations: 1. Even some of the most common items like C&H cane sugar are only offered by one provider 2. (To my dismay) The default provider isn't always the cheapest! A search for semi-sweet chocolate returned a result from Target for $3.44 when in fact it costed only $3 from Nob Hill.
Delivery
Google has mentioned that they're still experimenting with pricing, but presumably it'll be some combination of subscription fee, per store delivery fee and basket size. I had unknowingly chosen the 4 items from 3 separate stores, so I was really lucky that this is a free trial. Since having Google Wallet is a prerequisite, the checkout process is simple. You just need to choose a delivery time frame, let Google substitute for an equal or lesser value item if the item is out of stock (optional), and leave a delivery instruction (also optional).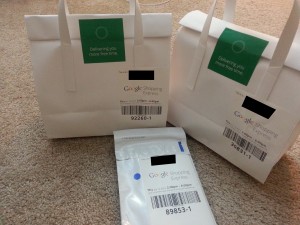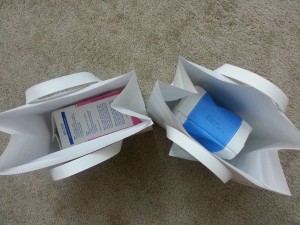 The delivery came on time, and I immediately received a confirmation email once the items were delivered. The items came in 4 individual packages (the two chocolates were stacked up in the picture) which was utterly wasteful, but perhaps understandable given it was from 3 different stores. I felt like a kid opening her present on Christmas Day!
Price Comparison
Out of curiosity I decided to look up prices of the same items from a nearby grocery store, which isn't one of Google's partner. I'm happy to report that of the 4 items I bought, 3 items were cheaper on Google Shopping! The white chocolate was cheaper at my local store only because it's on sale, and I also could have gotten the flour at a lower price if I went with the store brand. The delivery fee  would have made a difference, but again it wasn't a consideration this time.
Some Thoughts
Google Shopping Express does what it's suppose to do – allow busy professionals to shop any time, from anywhere. However one significant deal breaker with the current service is the lack of produce and other perishables. Despite all its convenience, I still had to make a trip to the grocer to purchase ingredients for dinner last night. For an average household, the frequency of food shopping far exceeds the need to purchase other household items, which means they can easily be picked up during the same shopping trip. AmazonFresh & other companies have offered such service for years yet none has really taken off. I have not followed closely to understand the issues but it would be amazing if Google can pull this off.
Some other features I think would be useful:
Learn my shopping preference: If I've purchased sugar before, automatically picks the same item for me next time instead of making me choose from hundreds of results again.
Help me save money: Give me an option to just pick a category, then automatically choose the items that would minimize my bill. This is particularly useful once the user has to take per-store delivery fee into account.
Ditch the current packaging: The high quality and individual packaging is completely unnecessary. Save the trees!
(Minor) Saves my delivery detail: Probably just an oversight, but it'd be nice not to have to type up a delivery instruction every time.
I'm sure the product is still at an early stage and will be improved over time. For now, I'd probably keep doing it the old fashioned way just to be more environmentally friendly.